How Do I Know If I Have A Wasp Nest?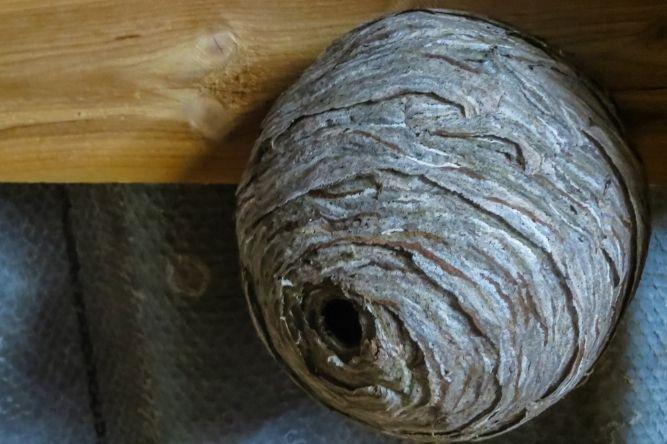 Are you worried about being stung this summer? Many homeowners see the presence of wasps in their yard and wonder whether they could inadvertently be housing a wasp nest somewhere on their property. Understandably, this can be quite concerning for those who may be allergic or are just averse to these flying insects. 
If you think that you might have a wasp nest in or around your home, here are three telltale signs that you won't want to miss! 
Large Presence of Wasps
The first sign that you may have a wasp nest on your property is the presence of these pesky insects. If you are in your backyard and happen to notice there are a lot of flying wasps around, there is a good chance that there is a nest located somewhere nearby. Wasps must continuously head out to search for food and then return to their nest to tend to the hive. As a result, you will often see a very active insect population if you are housing a nest. 
Do You Hear What I Hear?
Even if you can't visibly identify the insects that you see swarming, you might be able to identify them by sound. Take a slow walk around your property and listen for the telltale buzzing sound of a thriving wasp nest. The closer you get to their home, the louder the sound is likely to be. With so many insects in one place, the sound will be undeniable if you do indeed have a wasp nest somewhere on the property.
Look for the Nest
If you see the wasps and hear them buzzing, it is time to look for a visible nest. Pay attention to the direction you see wasps flying in and follow the sound of the buzzing until you are confident you are in the right area. Look for small structures that look either papery or full of mud. Depending on the species of wasp that has laid claim to your home, their nest may look a little different. It is always easier to treat nests in the early stages when there are fewer wasps in the nest than it is when they reach a more advanced stage. 
Where should you look for the presence of a nest? There are a few hot spots on homes that wasps tend to claim as their own. Attics and underneath the roof are common areas. Outdoor sheds or garages are often great hiding spots as well. If you have a lot of trees on your property, be sure to inspect the tree trunks for signs of life.
Call the Professionals
If you find that you have a wasp nest on your property, you need to eliminate it safely and as soon as possible before someone gets stung. You need to contact the top pest control in Winnipeg. Here at Gilles Lambert Pest Control, we have all the professional resources necessary to take care of your home!