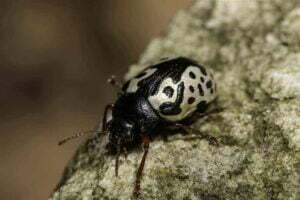 In a recent post, we talked about cankerworms and Winnipeg's urban forest. We mentioned that while cankerworms can weaken a tree, they are not an immediate threat to the tree's life. Today, we take a look at two bugs that are an important threat to Winnipeg's beautiful trees; the elm bark beetle and the emerald ash borer. First, we'll discuss the history of the pests; then, we'll talk about how GL Pest Control can help you protect the trees on your property.
You may have noticed that, around Winnipeg, we mostly have flat plains. The urban forest we have here is not naturally occurring; we took hundreds of thousands of elms from riverbanks and transplanted them along Winnipeg's streets in the early 1900s. In 1975, an invasive species appeared: the elm bark beetle. While the beetle alone isn't devastating to our elm populations, it is often itself infested with Dutch elm disease (DED), a fungus that travels on the beetle; this disease began to quickly destroy our elm population. In 1975, we had about 275 000 elms; today, we've fallen to about 200 000. Innovative foresters suggested we plant ash to replace the elm; Dutch elm disease doesn't affect ash trees. We did so, but to our dismay, we've recently seen emerald ash borers; these bugs lay their larvae in ash trees and quickly devour them from the inside out. Most Asian ash trees have a resistance to these bugs, but our ashes do not; we will have to fight DED on our elms, and the ash borer on our ashes.
What then can we do to help you with these two invasive pests? The answer lies in advice about pesticides. Generally, pest control in Winnipeg is focused on interior pests; insects and rodents that invade the home. We can also help with mosquito prevention. Dutch elm and emerald ash prevention, however, is mostly handled by arborists; in truth, there isn't a particularly effective pest control strategy that's well known for these beetles, which is what makes them such a nuisance for the city. We can, however, help you research what pesticides might be effective at killing the bugs when they're injected into the tree. Preventive maintenance can also help control these pests.
Don't move firewood from the city to rural areas, and don't move firewood from rural areas to the city. Keep your trees well pruned and watered, but be careful to only prune your trees during the approved tree pruning season. You can hire an arborist to help you keep your trees in tiptop shape; the City of Winnipeg keeps a list of approved arborists who you can contact in order to guard your trees against pests. If you're unsure as to the safety of pesticides being used, you can get in touch with us; we use a variety of different pesticides in our work, and we can give you a good idea of how they might affect the health of nearby flora and fauna.