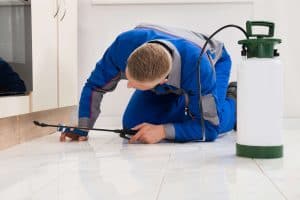 Did you know that cockroaches can carry bacteria that can lead to illness in humans? If you have a roach infestation in your home or business, it is imperative to get it treated right away. However, there is more to pest control than simply allowing the exterminators in the door. There are a few key steps you need to take before they arrive to ensure the success of your treatment.
These expert tips will help you to get the most from your cockroach control service: 
Rearrange Your Home
Before your exterminator arrives, you may need to rearrange your home to give them full access. Pay attention to areas where you have found cockroaches, exoskeletons, and eggs. This may be in inconvenient locations such as behind the refrigerator or the stove. Be sure to pull appliances and furniture out from the wall and sweep up underneath them. Vacuum any eggs you may find hiding in these spots.
Cover or Put Away Baby Items
Make sure to put away any baby items that may be in the affected areas where treatment will occur. If there are items you can't put away, such as crib mattresses or certain toys, be sure to cover them well. 
Deep Clean Your Home
The single most important thing you can do to ensure success with your cockroach control service is to deep clean your home. When your pest control specialist arrives for treatment, they are going to lay bait. You want to entice the roaches to take the bait instead of allowing them to feast on other food sources found around your home.
Cleaning your home involves several steps:
Tidy Up Countertops
This is not the time to leave dishes in the sink or bread on the counter. You will want to clear countertops of all food sources. Put away small appliances that invite crumbs, such as toasters. If there is any food on the counter,  put it somewhere else. 
Mop and Vacuum
Wherever possible, you need to mop and vacuum your floors. This eliminates crumbs and other tasty morsels that cockroaches love. As an added bonus, vacuuming also allows you to eliminate any roach eggs that are present in the home before the exterminator arrives. Make sure to discard the waste properly to keep those eggs outside. 
Take Out the Garbage
Even if your garbage seems secure, you need to take out all of the trash. This means emptying recycling bins as well as the regular garbage. Empty bins in the kitchen, bathrooms, and bedrooms. Once the pest control specialist arrives, there should be absolutely no trash left in your home or place of business for roaches to eat.