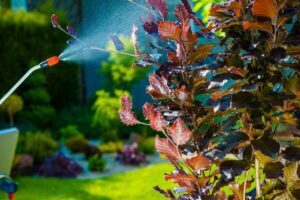 Many people spend hours in their gardens tending to their plants. If you have a green thumb and want to keep your garden in top shape, you might be curious about whether pest control could possibly be harmful to your plants. After all, pesticides are made from chemicals. If you're applying it around the exterior of your home, it could make its way into your garden.
For more information on how pest control can impact your garden, here's what you should know:
Make Sure To Read Labels
The truth is that pesticides can damage plants in a process known as phytotoxicity. You'll find that pesticides can burn plants, delay germination, and stunt the overall growth of plants. However, it isn't just direct application that can have this effect on a growing plant. Pesticides might get washed into the soil surrounding the plant by rainfall or wind.
Always make sure to read the label before you apply any pesticide to your garden. This should give you some good insight into whether your plants can withstand the treatment. You should also pay close attention to the application instructions, as overusing these chemicals can result in plant death as well.
Use Natural Pesticides
If you need to use pesticides to keep your garden in top shape, then you may want to consider natural pesticides. These have exploded in popularity due to the risk of the harsh chemicals found in traditional pesticides. A natural pesticide could include chili pepper spray, tomato leaves spray, or even a soap spray.
These can serve two purposes: They can kill pests that are damaging the plants, and they can also attract predators who will eat and kill the pests that are causing the damage. This makes them a great option over traditional pest control methods.
Pay Attention to the Weather
If you have some concerns about how your garden will fare with the application of pest control, the weather could help you decide when to use pesticides. Avoid spraying pesticides on windy days if you're trying to keep the chemicals out of your garden. Wind can transfer the pesticides over long distances and end up damaging your plants despite your best intentions to keep them safe.
You should also avoid using pesticides during hot and sunny weather. Plants are more susceptible to the damaging effects of some pesticides under these conditions. It's better to wait until cooler weather or an overcast day when possible.
Contact the Experts
If you want to manage your garden in a safe and healthy way, then you should leave it to the professionals. Pest control in Winnipeg doesn't have to be complicated and can help keep your garden in great shape. Gilles Lambert Pest Control can address your concerns for your plants and keep your house and yard pest-free. Give us a call today to see how we can assist you with your pest control concerns!