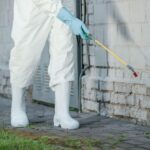 When dealing with an infestation of critters, you need to ensure that you're hiring the most appropriate service to rid your home of them. Both pest control and animal control companies can help eliminate issues, but the way they go about it is often different. Understanding what each type of service offers is key to ensuring that you hire the right person for the job.
Here's what you need to know about the two services:
What Is Pest Control?
For the most part, pest control is designed to eliminate an insect or arachnid infestation. Hiring a pest control company means that someone is going to come out to your home, spray, and/or leave traps for the insects to fall into. There's no emphasis on "saving" the pests that are destroying your peace of mind. 
In other words, the goal is to kill the problem right at the source. This is an extremely effective way to make sure that an infestation doesn't return.
What Is Animal Control?
On the other hand, animal control focuses on saving the animals that are bothering you. If you hire a company specializing in animal control, then you'll find that they lay live traps to capture the animals wreaking havoc in your home. Whether it's a raccoon or a bird, the goal is to get them out safely so that they can be released in the wild, preferably far away from your home.
Where a pest control company may aim to kill the creatures who are bothering you, animal control is all about the humane way to allow those animals to continue to live.
Where Do They Overlap?
Sometimes, pest control and animal control have a bit of overlap, specifically when it comes to rodents. Many pest control companies will also cater to rodent extermination, though they may not offer other types of animal control. Rodents are tricky to deal with, cause serious damage to your home, and can even be carriers for certain diseases. 
As a result, rodents are not often treated as wildlife. Instead, they're typically exterminated by pest control companies. However, you may find a pest control company that lays live traps and can try to rehome these rodents. Keep in mind that this is a very tricky method to deal with rodents and may not be successful.
Hiring Top-Notch Pest Control
If you require pest control in Winnipeg, then you need to hire the experts who have it down to a science. Gilles Lambert Pest Control can help you eliminate a problem directly at the source. From spraying to laying traps, we have all of the tools needed to get your home pest-free in no time at all. Reach out to us today to learn more about our services and how we can help you.