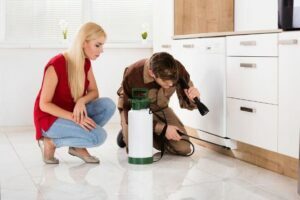 One of the perks of renting a home instead of purchasing one is that many responsibilities are placed on the landlord instead of the renter. From appliance repair to major water damage, these issues are solidly placed on the owner of the property. The question is, who is responsible for some of the other expenses of keeping up with the property, such as pest control?
If you're newly renting a property and want to know who is ultimately responsible for your pest control, here's what you need to know:
General Property Maintenance
As you likely already know, landlords tend to be responsible for general property maintenance unless there's another agreement in place. General property maintenance includes managing the most important systems of the home, such as electrical or plumbing. It also includes other services like pest control. 
A routine pest control service will typically be maintained by your landlord. If you aren't sure whether this is covered in your lease, be sure to reach out to the landlord or property management company to see what arrangements have already been made for routine pest control. 
Make sure that you have it in writing that your landlord covers general pest control maintenance. This should be spelled out, just like your landlord's other responsibilities.
Infestations
The exception to the general property maintenance associated with routine pest control is if an infestation occurs. Sometimes, infestations are nobody's fault, and they simply happen when an influx of pests find their way into your new rental home. Landlords will frequently cover the cost of pest control to treat an infestation unless it's deemed to be the renter's fault. 
If the renter is ultimately at fault for the infestation, then it's likely that the landlord will want them to pay for the cost of the treatment. 
For example, a flea infestation that stems from your dogs or cats might be your responsibility to treat. The same is true if you aren't keeping the home tidy and have attracted pests with trash, poor food storage, or other problems. On the other hand, the landlord may cover the cost of the treatment if there are cockroaches coming in due to poor seals around windows or doors.
Maintaining the Property
If your lease specifies that the landlord is responsible for routine maintenance, make sure you're doing your part to limit the likelihood of an infestation. This means eliminating stagnant water sources, uncovered trash, and improper storage of food. It can also mean treating your pets for fleas and ticks.
Even under the best circumstances, sometimes pests can't be helped. When this is the case, you need top-notch pest control in Winnipeg. Gilles Lambert Pest Control Services Inc. can help you in the event of an infestation as well as with routine pest control services. Be sure to give us a call today to learn more about how we can assist you with all of your pest control needs!